Un mélange de tous ses films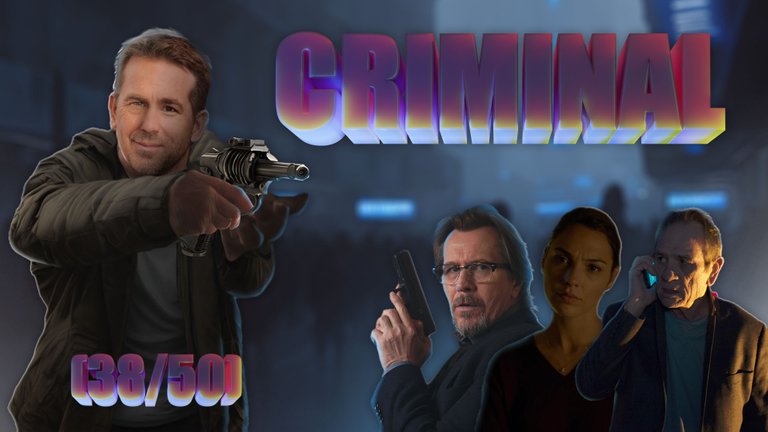 Comme je l'ai dit dans le titre, quand j'ai regardé Criminal j'ai eu l'impression de voir un genre de mashup entre tous les ancien Films de Ryan Reynolds.
Et ça va vachement plus loin que ça. Je pensais que Ryan Reynolds ne faisait que jouer des films similaires depuis Deadpool où tous ses personnages ont exactement le même humour et vocabulaire, dans des scénarios qui mêlent action et humour noir/sarcasme qui sont selon moi en même temps la cause et la conséquence des gros films hollywoodiens de ses derniers temps quand on voit l'impact qu'a eu deadpool dans le blockbuster de super héros faisant de RR un des acteurs les plus bankable du monde.
Avec celui là je me suis rendu compte que l'intrigue même de beaucoup de ses films sont similaires, et je vais devoir faire un condensé de sa carrière pour montrer à quel point c'est flagrant. C'est pour ça que je ne pourrai pas faire autrement qu'en divulgâchant tout le film.

Les points de cohérence
Plusieurs Ryan Reynolds
Celui là c'est une dinguerie. Il y a tellement de films dans lesquels l'acteur est dans plusieurs corps, en même temps ou non.
Et tout ça dans l'ordre chronologique : ça commence avec un film qui essaie de faire vivre ça de façon assez expérimentale et artistique.
Dans The Nines, pour faire vite et si j'ai bien compris, il joue quelqu'un qui a une "note spirituelle" de 9, ce qui le rend capable de vivre plusieurs vies dans plusieurs dimensions parallèles en même temps.
Dès le second film le ton humoristique arrive et gâche le potentiel que ça aurait pu avoir puisque dans The Change Up ⁽ᴱᶜʰᵃⁿᵍᵉ ˢᵗᵃⁿᵈᵃʳᵈ ᵉⁿ ᶠʳᵃⁿᶜᵃᶦˢ⁾ en pissant dans une fontaine avec son meilleur ami, ils échangent leurs âmes pour se réveiller dans le corps de l'autre.
L'exemple de The Voices est un peu différent puisqu'ici le personnage de RR ne fait qu'imaginer et faire lui même les voix de ses interlocuteurs, faisant parler son chien, son chat ainsi que quelques têtes coupées.
L'exemple le plus ressemblant avec Ce film c'est evidemment Self/less ⁽ᴿᵉⁿᵃᶦˢˢᵃⁿᶜᵉˢ ᵉⁿ ᶠʳᵃⁿᶜᵃᶦˢ⁾. Dans un genre de science fiction ou un groupe a réussi a inventer une technologie qui peut insérer l'esprit de quelqu'un dans le corps d'un autre. Avec l'esprit de Ryan Reynolds qui essaie de prendre le dessus tout le long, même si ici ça se passe dans le sens inverse.
A partir d'ici, même s'il n'y a as eu de posts, soit j'ai deja vu le film, soit on le comprend bien rien qu'avec les bandes annonces ou avec l'idée même du film/
Pokemon Détéctive Pikachu, je fais vite pour pas trop spoiler, mais c'est son esprit dans le corps d'un Pikachu.
Dans Free Guy, il y a le personnage principal, Guy, et une version bodybuildée de lui qui arrive à la fin.
Dans The Adam Project, il revient littéralement dans son passé, il y a donc deux personnages qui sont la version enfant et adulte du même personnage.
Soldat Toujours en voiture

Dans une majorité de ses films, il se retrouve à traquer ou être traqué en étant un militaire ou n'importe quel autre personnes entrainée a utiliser une arme.
Traqueur :
On trouve pas mal d'exemple où il se retrouve a chercher un peu partout, dans des villes différentes, pour trouver souvent la personne qu'il veut tuer comme dans Deadpool ou Selfless, arrêter comme dans RIPD ou protéger/sauver comme on peut voir dans smokin' Aces ou Captive. Je n'ai toujours pas vu The Adam Project mais j'imagine qu'ici il cherche un ennemi pour l'eviter de faire le mal dans le futur mais c'est 100% spéculation ici.
Traqué :
Il y a effectivement les exemple inverse, où il doit s'enfuir de gens qui lui veulent du mal, les deux les plus semblables (si vous suivez) sont Safe House et Criminal. Et je mettrai Xmen dans cette catégorie car même si lui il est du coté traquer, le personnage principal est traqué, de toute façon c'est moi qui écrit tu vas faire quoi ?
Je mettrai dans une case d'entre deux Les deux Hitman and Bodyguard puisqu'ils se retrouvent a fuir et chercher les ennemis en même temps.
On se retrouve dans un certain temps pour le prochain post sur Life

Mon stake actuel de CINE :
7 187
---
Voilà la liste complète de tous les films :