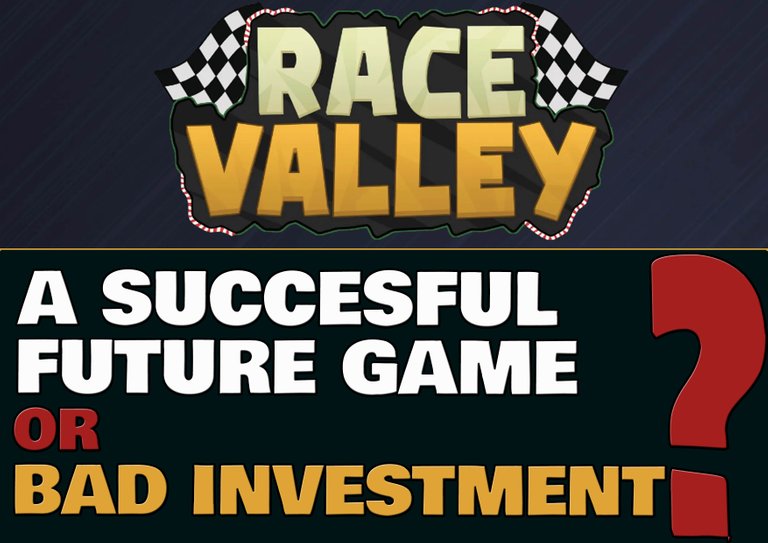 Logo Race Valley owned by @racevalley - Cover Edit by @libertycrypto27 - Fonts used are Open Source
---

La versione in italiano è subito dopo la versione in inglese - The Italian version is immediately after the English version

Race Valley : a Successful Future Hive Game or a Future Bad Investment? My analysis + Questions to the Development Team!

Those who read my Hive blog know well my passion for Hive and blockchain-based games.
I joined Hive on March 5, 2019 when there was only one game on Hive: Splinterlands.
Splinterlands was my first blockchain game that I decided to play and invest in, and I'm glad I did because today Splinterlands is still my favorite blockchain-based game.
Today on Hive there are so many playable games and in the list of games I play there are 14 Hive games.
There are also so many game projects in development on Hive that are not playable but will be in the future and I have also invested in some of these projects.
Today I am sharing my personal evaluation of an in-development game project that I recently discovered: Race Valley.

What is Race Valley?

Race Valley is a project of a Hive game play to earn in development.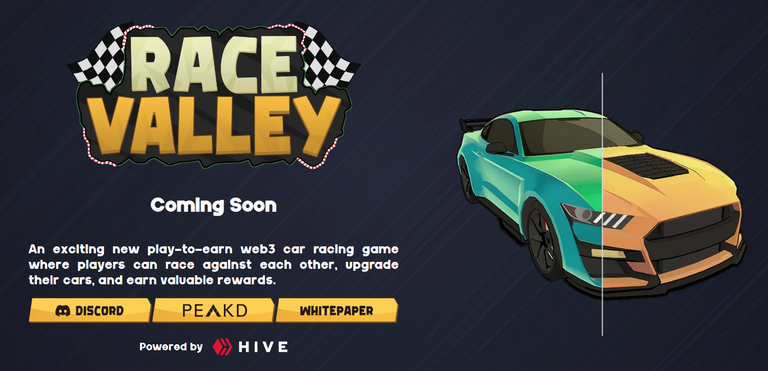 Screenshot from: https://racevalley.io/
Race Valley Game Site: https://racevalley.io/
Whitepaper: https://whitepaper.racevalley.io/racevalley/overview
The Race Valley game project was introduced on Hive on April 3, 2023 by the @racevalley account via the publication of the following post: RaceValley: The Ultimate Play-to-Earn Car Racing Experience
RaceValley is the project of a 2D play-to-earn car racing game and in the screenshot below you can read the Overview section of the whitepaper.
---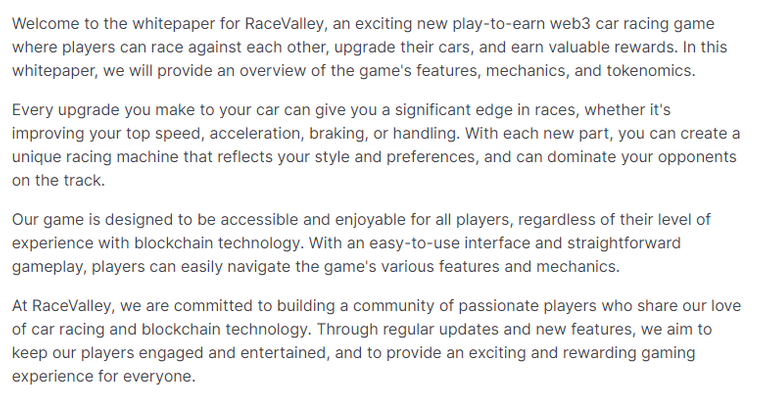 Screenshot from: https://whitepaper.racevalley.io/racevalley/overview
---
According to information in the Roadmap section of the whitepaper the release of the playable version is planned in Q4 of this year.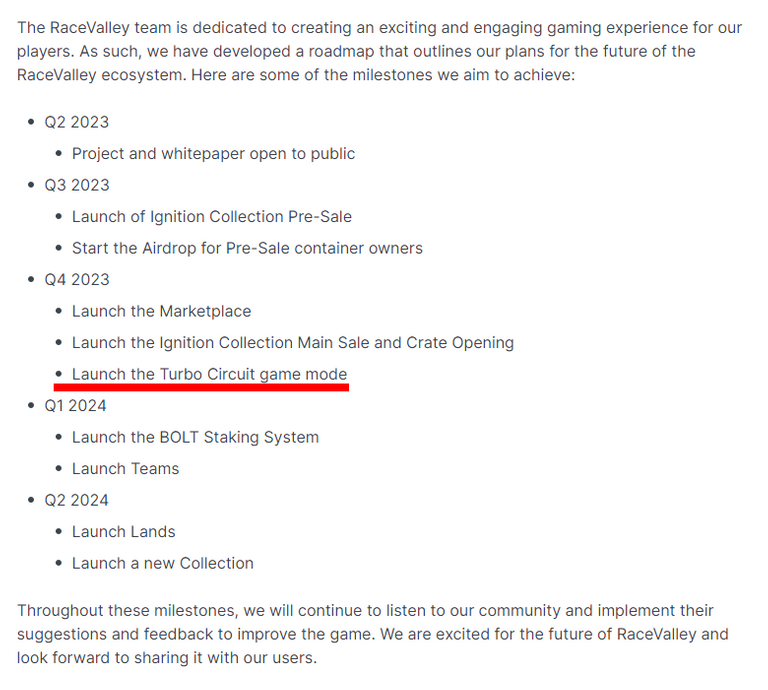 Race Valley will be a skill-based game because the player will have to learn how to drive a car to get good results in the game.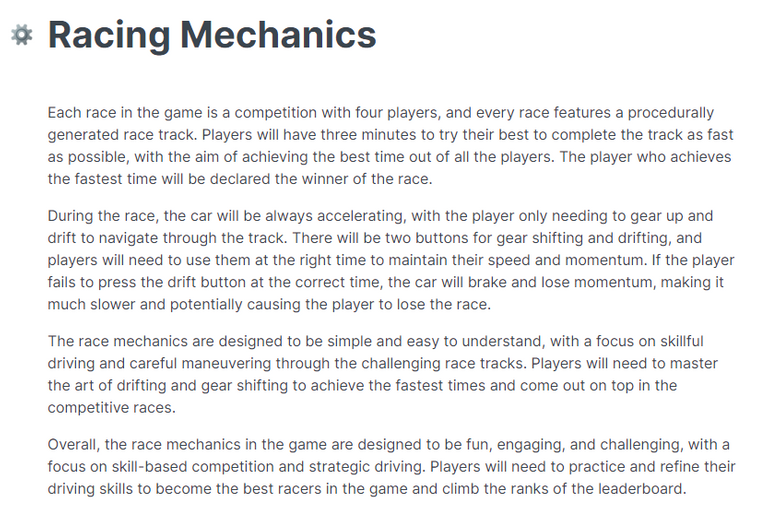 The player will also have to upgrade their car to be more competitive in the game by purchasing car parts such as engines, tires, ...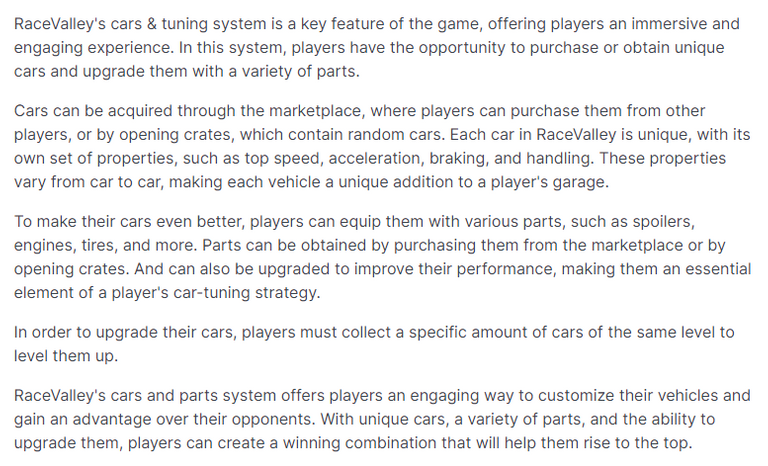 The tokenomics will be based on two tokens:
BOLT: the game's main token that will have several use cases including game governance via a system of proposals for BOLT stakeholders
RUSTY: the token that can be earned by playing and will also be used to purchase NFTs and ugrade the machine.
The BOLT and RUSTY tokens are tokens of the second level of the Hive blockchain but it is not yet possible to buy them because there are no offers to sell them yet.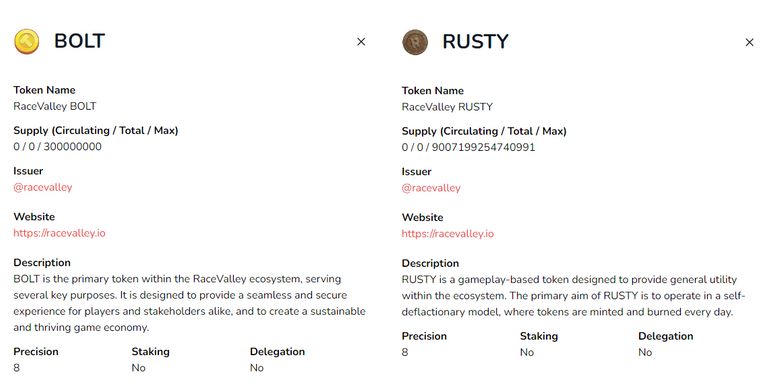 Screenshot from https://hive-engine.com/tokens

My analysis of the strengths and weaknesses of Race Valley

As an enthusiast gamer of blockchain-based games with a natural preference for Hive games I am very happy that there is a project like Race Valley being developed on Hive because:
I like the idea behind the game
there is no such game on Hive and Race Valley would increase the range of game possibilities available to players on Hive
2d car racing games are fun and easy to play and there have been many examples of fun and successful web 2.0 games of the same type as Race Valley
In my financial evaluation of a project under development there is always the evaluation of the curriculum and past experience of the development team.
A few days ago I logged into Race Valley's Discord server and asked for more information:
about the approximate release date of the playable version
about the Hive accounts of the development team

I received a kind and immediate response, and that is something I always value in a positive way.
In the following screenshot you can see the response I received from @s0nikkukun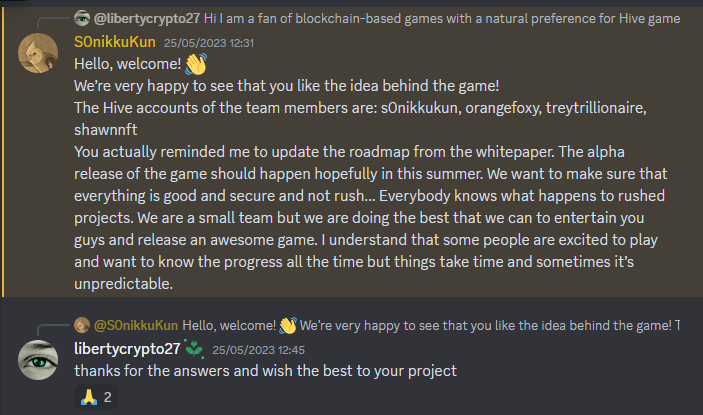 The development team of Race Valley is conposed of 4 Hivers:
I researched these accounts.
In the following images you can see the activity and weight of the development team members of Race Valley on the Hive blockchain.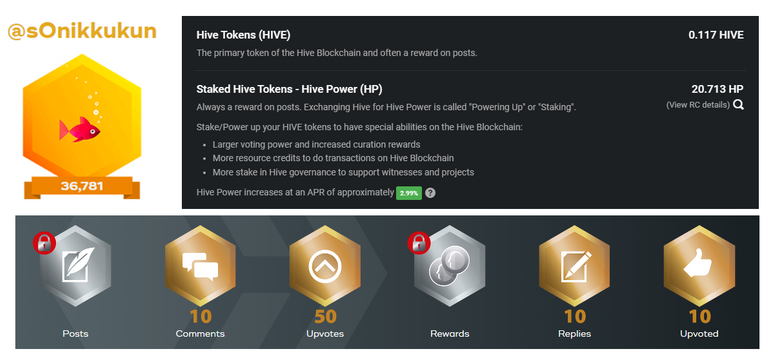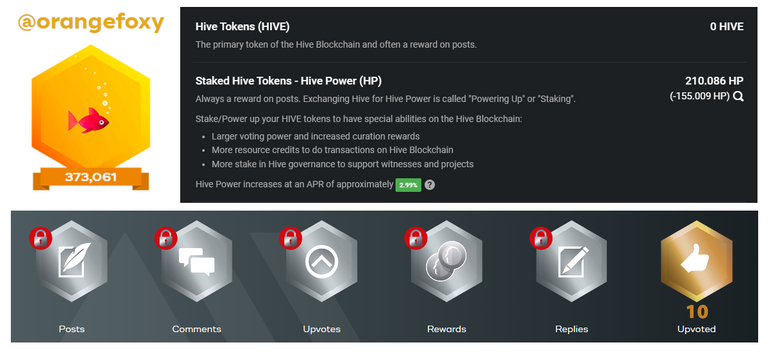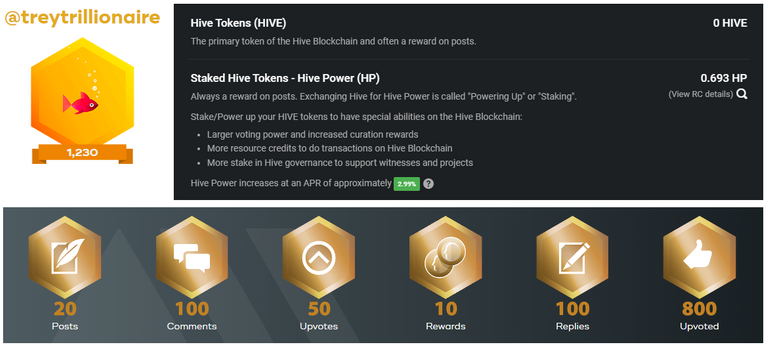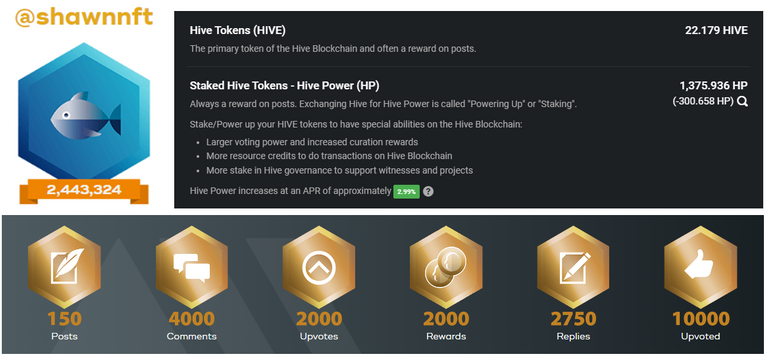 I wish the best for the Race Valley project but from an investor's point of view I cannot have total and complete confidence in a Hive project where the development team members have almost no weight and activity on the Hive blockchain.
The only account that can be considered a Hiver is @shawnnft who has a good level of interaction on Hive (150 posts/4000 comments) and more than 1000 HP.
For this reason I do not have suffiecient elements to invest much and from the presale in this project even though I like the idea behind the game very much.

My questions to the Race Valley development team

I need to know more information, and I think this additional information can also be very useful to my readers and in general to the Hivers who will read this post or ask me for advice in the future about Race Valley.
The questions I ask @racevalley in this post are:
**Is Race Valley your first experience creating a blockchain-based game?
On what basis or past experience should a Hiver invest in your project?
Do you plan to invest in Hive to support the Hive ecosystem before selling the game assets e.g. by increasing the amount of HP in the @racevalley account? Or not?
**How do you plan to invest the profit from the sale of the game assets?
I hope the @racevalley team will answer these questions that will be helpful to Race Valley, my readers, and also to the Hivers who have the same initial doubts as me.
To recap:
Race Valley is an interesting project and I really like the idea behind the game and I also like the way the team is planning to make this game but from an investor and Hive lover's point of view, I have not seen a concrete interest on Hive so far from the creators of the game and I think they need to show more (information about them and not about the project) if they want their project to succeed!
I will follow this project with curiosity and interest and update my readers on the development of this project.
By the way, I have already acquired a game asset because I participated in a tournament on Splinterlands at which I placed 11th and will receive 1 IGNITION container as a prize!

With this post I am participating in the contest organized by @racevalley in which Race Valley asked for impressions, suggestions and considerations and I did just that.
If you also want to participate you can read all the details at the following link: RaceValley Contest: Ignition Containers Giveaway
And you dear reader:
Did you know about the Race Valley project?
What are your thoughts and evaluations about this project?
I hope I have given you useful information and thank you for taking the time to read this post :)

Important Note:

Blockchain-based games that allow people to buy and sell game assets (tokens and NFTs) are not just games but are also investments and should be treated as such!
In any type of investment there is always a
risk factor
to evaluate and consider.
I am not a financial advisor and the information contained in this post is not financial advice
.
Before investing in a blockchain-based game you should always do your own research and personal evaluations.
My advice is to always only invest what you can afford to lose with a light heart!

Unless otherwise indicated, the images in this post are screenshots taken from the sites:
https://racevalley.io/
https://hivebuzz.me/ranking
Race Valley Discord
https://hive-engine.com/trade/BOLT
https://hive-engine.com/trade/RUSTY
https://peakd.com/
https://hivebuzz.me/ranking
The fonts used in the images related to the calculations and in the images edited by me are Open Source
Images containing formulas, tables and calculations are my property
The dividers with the Hive logo in this post were created by me and if you like them you can use them too, the Hive logo is property of https://hive.io/
---




Race Valley: un progetto con potenziale ma con tanti dubbi iniziali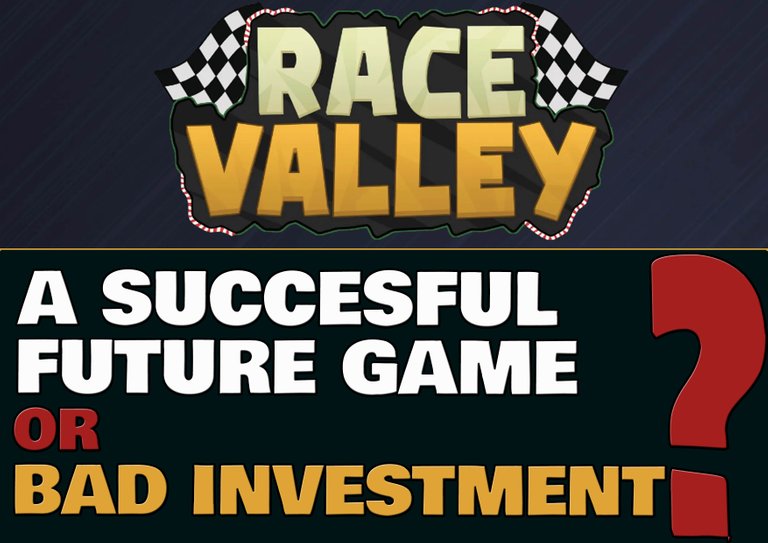 Logo Race Valley owned by @racevalley - Cover Edit by @libertycrypto27 - Fonts used are Open Source

Chi legge il mio Hive blog conosce bene la mia passione per Hive e per i giochi basati su blockchain.
Mi sono iscritto su Hive il 5 marzo 2019 quando su Hive c'era solo Splinterlands che è stato il mio primo gioco blockchain a cui ho deciso di giocare e investire e sono contento di averlo fatto perchè oggi Splinterlands è ancora il mio gioco basato su blockchain preferito.
Oggi su Hive ci sono tanti giochi giocabili e nella lista dei giochi a cui gioco ci sono 14 Hive games.
Su Hive ci sono anche tanti progetti di giochi in via di sviluppo che non sono giocabili ma lo saranno in futuro e su alcuni di questi progetti ho anche investito.
Oggi condivido la mia personale valutazione su un progetto di un gioco in fase di sviluppo che ho scoperto da poco: Race Valley.

Cos'è Race Valley

Race Valley è un progetto di un Hive game play to earn in fase di sviluppo.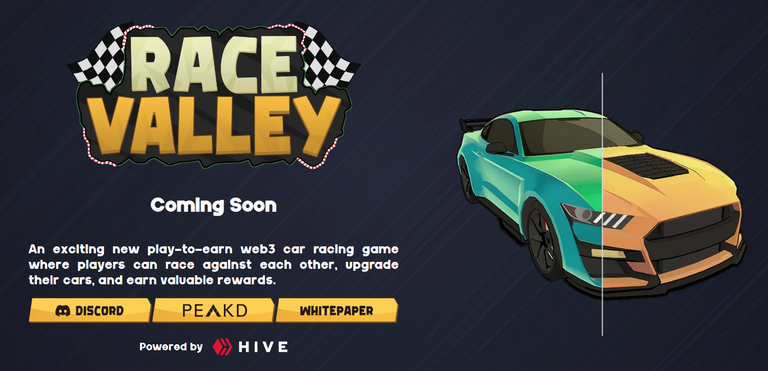 Screenshot from: https://racevalley.io/
Race Valley Game Site: https://racevalley.io/
Whitepaper: https://whitepaper.racevalley.io/racevalley/overview
Il progetto del gioco Race Valley è stato introdotto su Hive il 3 aprile 2023 dall'account @racevalley tramite la pubblicazione del seguente post: RaceValley: The Ultimate Play-to-Earn Car Racing Experience
RaceValley è il progetto di un gioco car racing 2D play to earn e nello screenshot seguente puoi leggere la sezione Overview del whitepaper.
---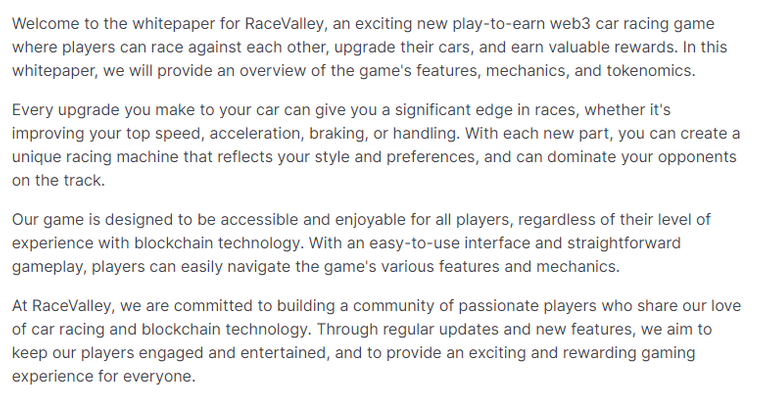 Screenshot from: https://whitepaper.racevalley.io/racevalley/overview
---
In base alle informazioni contenute nella sezione Roadmap del Whitepaper il rilascio della versione giocabile è pianificato nel Q4 dell'anno in corso.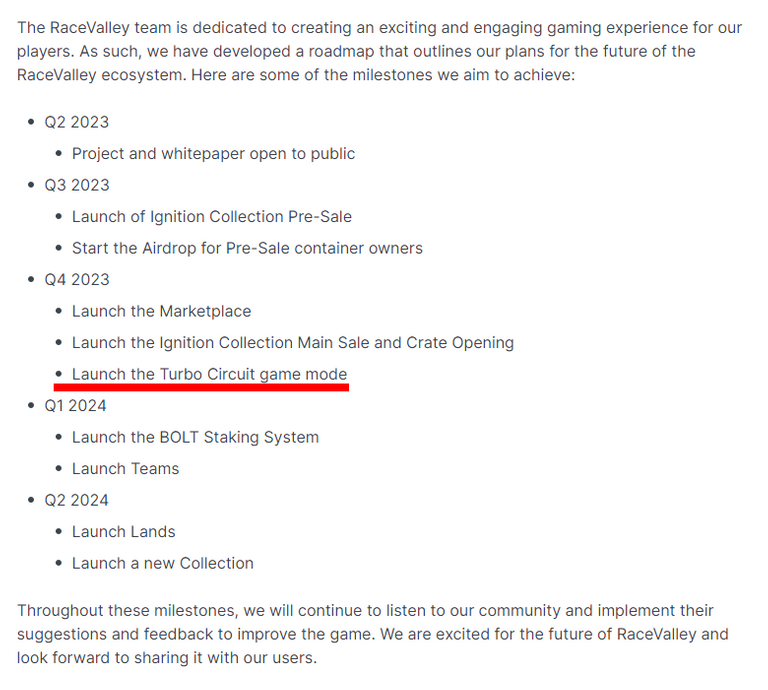 Race Valley sarà uno skill-based game perchè sarà necessario imparare a guidare una macchina per ottenere buoni risultati nel gioco.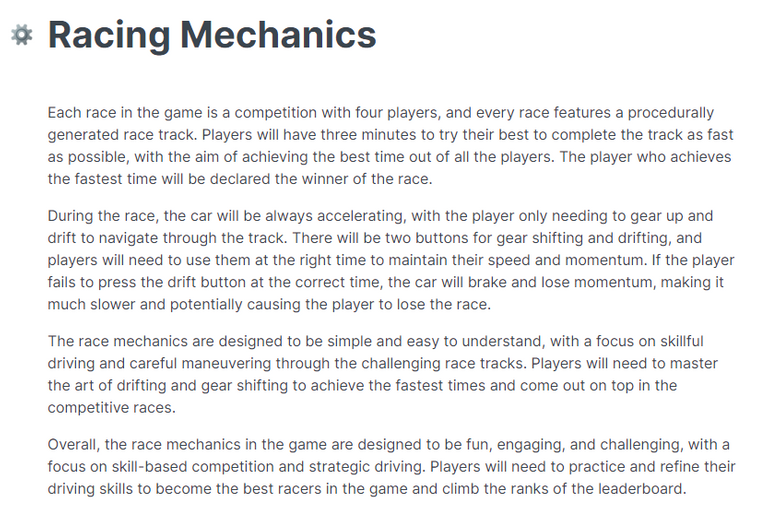 Sarà anche necessario potenziare la propria macchina per essere più competitivi nel gioco acquistando parti della macchina come motori, gomme, ...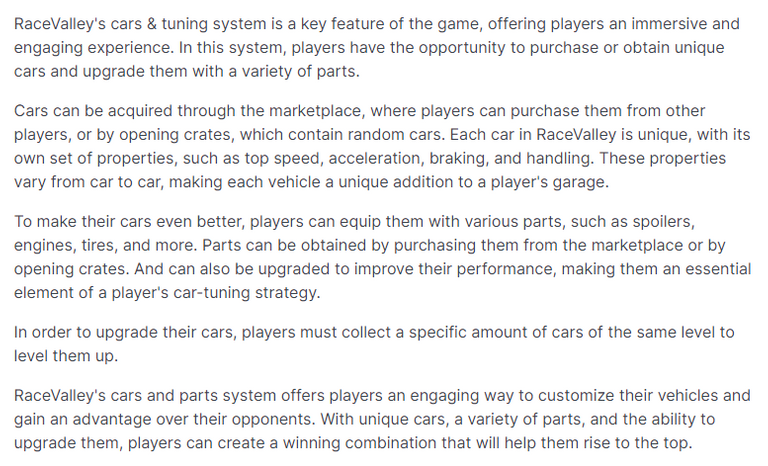 La tokenomics sarà basata su due tokens:
BOLT: il token principale del gioco che avrà diversi casi d'uso tra cui la governance del gioco tramite un sistema di proposals per i BOLT stakeholders
RUSTY: il token guadagnabile giocando e che servirà anche per acquistare NFTs e fare l'ugrade della macchina.
I token BOLT e RUSTY sono tokens di secondo livello della blockchain di Hive ma non è ancora possibile acquistarli perchè non ci sono ancora offerte di vendita.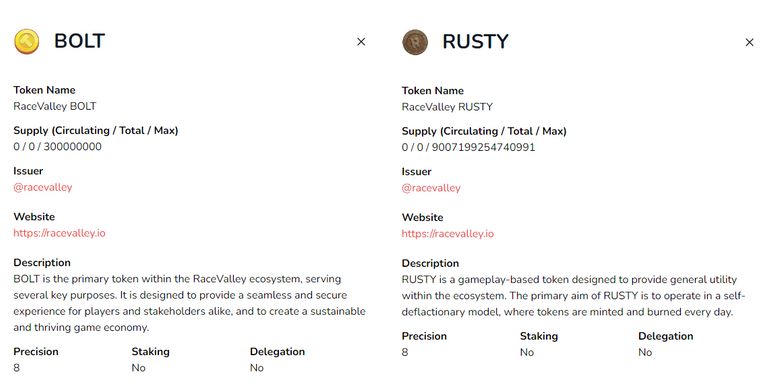 Screenshot from https://hive-engine.com/tokens

My analysis of the strengths and weaknesses of Race Valley

Come giocatore appassionato di giochi basati su blockchain con una naturale preferenza per gli Hive games sono molto contento che ci sia un progetto come Race Valley in fase di sviluppo su Hive perchè:
mi piace l'idea alla base del gioco
non c'è un gioco di questo tipo su Hive e Race Valley aumenterebbe il ventaglio delle possibilità di gioco a disposizione dei giocatori su Hive
i 2d car racing games sono giochi divertenti e facili da giocare e ci sono stati molti esempi di giochi divertenti e di successo nel web 2.0 dello stesso tipo di Race Valley
Come possibile investitore, nella mia valutazione di un progetto in fase di sviluppo c'è sempre la valutazione del curriculum e dell'esperienza passata del team di sviluppo.
Qualche giorno fa sono entrato nel server Discord di Race Valley e ho chiesto ulteriori informazioni:
sulla data approssimativa del rilascio della versione giocabile
sugli Hive accounts del team di sviluppo

Ho ricevuto una risposta gentile e immediata e questo è un'aspetto che valuto sempre in modo positivo.
Nello screenshot seguente puoi vedere la risposta che ho ricevuto da @s0nikkukun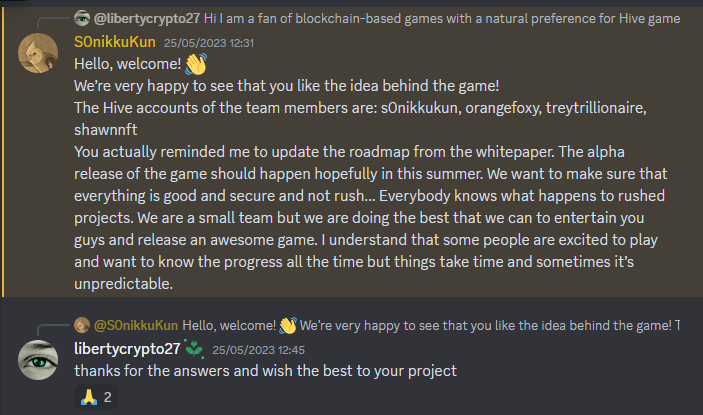 Il team di sviluppo di Race Valley è conposto da 4 Hivers:
@s0nikkukun
@orangefoxy
@treytrillionaire
@shawnnft
Nelle immagini seguenti puoi vedere l'attività e il peso dei componenti del team di sviluppo sulla blockchain di Hive.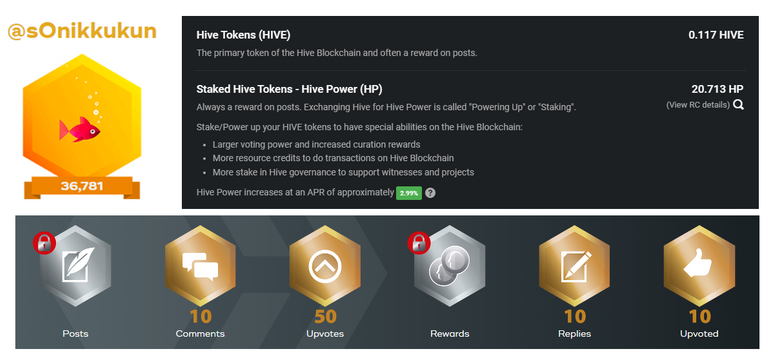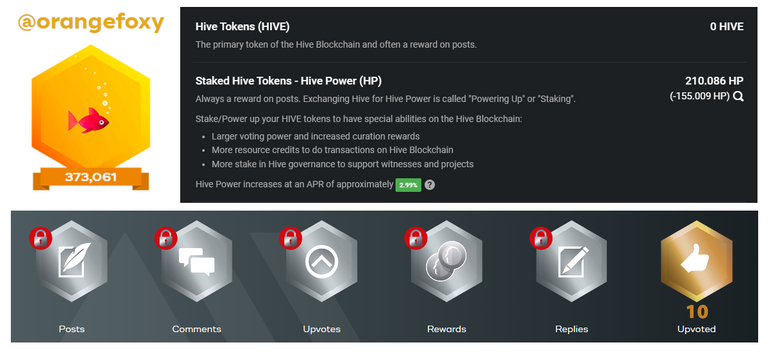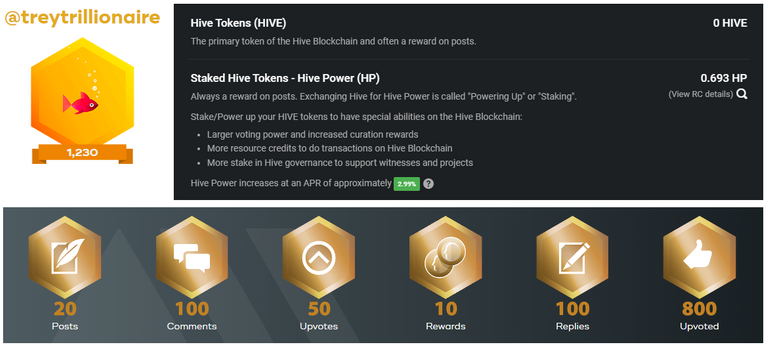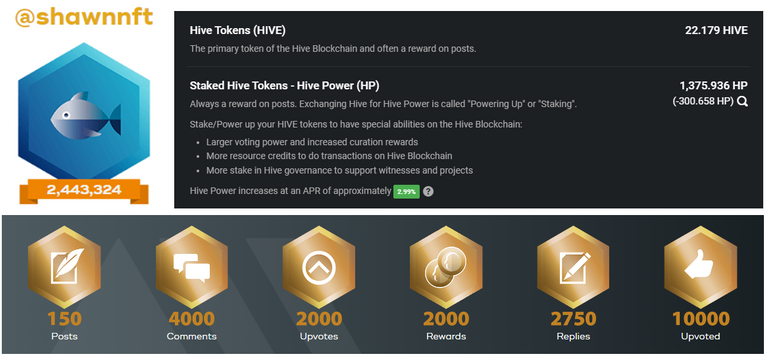 Auguro il meglio al progetto Race Valley ma dal punto di vista di un investitore non posso avere totale e completa fiducia in un progetto in cui i componenti del team di sviluppo hanno un peso e un'attività sulla blockchain di Hive quasi inesistente.
L'unico account che può essere considerato un Hiver nel team di sviluppo è @shawnnft che ha un buon livello di interazione su Hive (150 posts/4000 comments) e più di 1000 HP.
Per questo motivo io non ho suffiecienti elementi per investire molto e fin dalla presale in questo progetto anche se l'idea alla base del gioco mi piace molto.

Le mie domande al team di sviluppo di Race Valley

Ho bisogno di conoscere ulteriori informazioni e penso che queste ulteriori informazioni possono essere molto utili anche ai miei lettori e in generale agli Hivers che leggeranno questo post o che mi chiederanno dei consigli in futuro su Race Valley.
Le domande che in questo post rivolgo a @racevalley sono:
Race Valley è la vostra prima esperienza di creazione di un gioco basato su blockchain?
Su quali basi o esperienze passate un Hiver dovrebbe investire nel vostro progetto?
Avete intenzione di investire in Hive per supportare l'ecosistema di Hive prima di vendere gli assets del gioco ad esempio aumentando il quantitativo di HP dell'account @racevalley? Oppure no?
Come pensate di investire il guadagno della vendita degli assets del gioco?
Spero che il team di @racevalley risponda a queste domande che saranno utili a Race Valley, ai miei lettori e anche agli Hivers che hanno i miei stessi dubbi iniziali.
In conclusione:
Race Valley è un progetto interessante e mi piace molto l'idea alla base del gioco e mi piace anche il modo in cui il team ha intenzione di realizzare questo gioco ma dal punto di vista di un investitore e di un Hive lover non ho visto un interesse concreto su Hive fino ad oggi da parte dei creatori del gioco e penso che debbano dimostrare di più (informazioni su di loro e non sul progetto) se vogliono che il loro progetto abbia successo!
Io seguirò con curiosità e interesse questo progetto e aggiornerò i miei lettori sullo sviluppo di questo progetto.
Tra l'altro ho già acquisito un asset del gioco perchè ho partecipato ad un torneo su Splinterlands al quale sono arrivato 11° e riceverò come premio 1 IGNITION container!

Con questo post partecipo al contest organizzato da @racevalley in cui Race Valley ha chiesto di esprimere le proprie impressioni, suggerimenti e considerazioni e io ho fatto proprio questo.
Se vuoi partecipare anche tu puoi leggere tutti i dettagli al seguente link: RaceValley Contest: Ignition Containers Giveaway
E tu caro lettore:
Conoscevi il progetto Race Valley?
Quali sono le tue considerazioni e valutazioni su questo progetto?
Spero di averti dato informazioni utili e ti ringrazio per aver dedicato il tuo tempo alla lettura di questo post :)

Nota Importante:

I giochi basati su blockchain che permettono di acquistare e vendere assets (NFTs e tokens) non sono solo giochi ma sono anche investimenti e come tali devono essere trattati!
In ogni tipologia di investimento c'è sempre un
fattore di rischio
da valutare e considerare.
Io non sono un consulente finanziario e le informazioni contenute in questo post non sono consigli finanziari
Prima di investire in un gioco basato su blockchain devi sempre fare le tue ricerche e le tue personali valutazioni.
Il mio consiglio è di investire sempre e soltanto quello che puoi permetterti di perdere a cuor leggero!

Se non diversamente indicato, le immagini presenti in questo post sono screenshots presi dai siti:
https://racevalley.io/
https://hivebuzz.me/ranking
Race Valley Discord
https://hive-engine.com/trade/BOLT
https://hive-engine.com/trade/RUSTY
https://peakd.com/
https://hivebuzz.me/ranking
Le immagini che contengono formule, tabelle e calcoli sono di mia proprietà
Il font usato nelle immagini relative ai calcoli e nelle immagini da me editate è Open Source
The dividers with the Hive logo in this post were created by me and if you like them you can use them too, the Hive logo is property of https://hive.io/