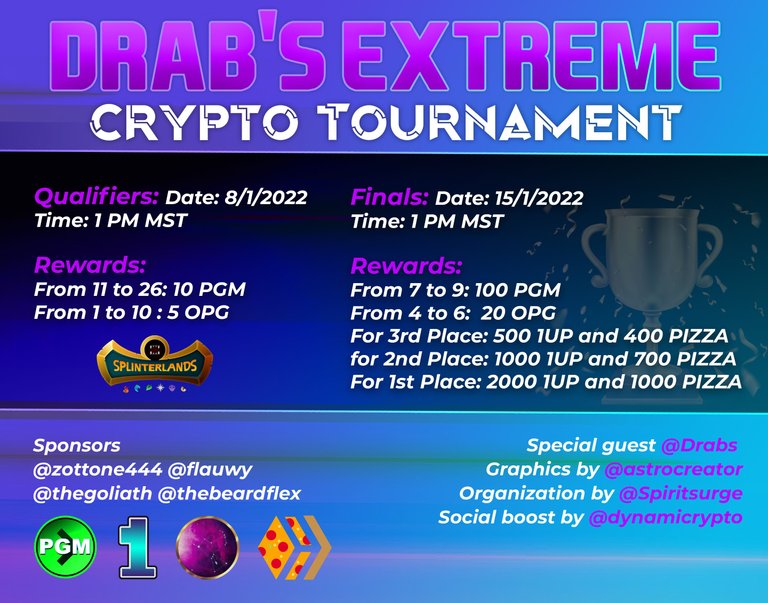 ENG
Hello to all friends of the PLAY GAMER community, today we are here, very happy, loaded, even a little exciting, to tell you that registration is now open for the first PGM SPLINTERLANDS tournament.
In fact, from exactly today clicking here it will be possible to register for the tournament!
Behind this tournament there is a lot of work and a lot of organization! In fact, the guys behind it are the following:
All these users within a week managed to organize this fantastic tournament.
Our goal is only 1, to see the best players in splinterlands compete in a tournament.
In fact, we all have a common passion, video games.
---
In fact these are the SPONSORS of the tournament:
all of them different tokens but who care about gamers!
---
To spice things up, the first qualification date and the final tournament will be streamed on twitch from @drabs587 which from 1 PM (MST) will be live on his twitch channel which you can find here
---
Yep, I'm sure you've all noticed, the word qualification, what's it for?
Well now I'll explain it to you, indeed I tell you:
HOW THE TOURNAMENT WORKS
The extreme tournament will be divided into 2:
# 1 QUALIFICATIONS
In the first tournament we have put you today there will be only the qualifiers and some small prizes to bring the best 26 PLAYERS to go and play the final tournament!
The prizes in the first tournament will be as follows:
The total value of the qualifier is 18.75 HIVE / $ 31.12
---
# 2 FINAL
In the second tournament comes the fun, in fact everything is multiplied x 10
Here are the 26 best players and you can be one of them!
You can also watch this tournament from home on Twitch thanks to @ drabs587
In this case the whole tournament will be played between only 26 players, who will receive a password to access the next tournament.
The rewards in this case are as follows!
7-9 100 PGM
4-6 20 OPG
3rd 500 1UP / 400 PIZZA
2nd 1000 1UP / 700 PIZZA
1st 2000 1UP / 1000 PIZZA
Huge prizes exceeding $ 300 in value!
The first prize alone is worth $ 125 !!!
---
We only ask you to pay a small entrance fee of 10 DEC ensuring you and anyone watching the tournament have fun!
Fun is the basis of everything and if you are good you will win the award as the best splinterland player of all the communities!
---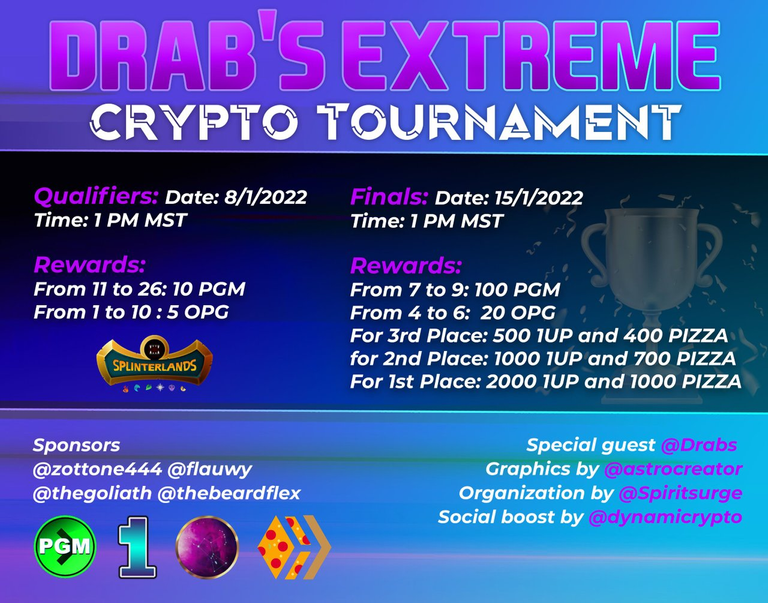 ESP
Hola a todos los amigos de la comunidad PLAY GAMER, hoy estamos aquí, muy felices, cargados, incluso un poco emocionantes, para decirles que ya está abierto el registro para el primer torneo PGM SPLINTERLANDS.
De hecho, desde hoy mismo haciendo clic aquí ¡será posible registrarse para el torneo!
¡Detrás de este torneo hay mucho trabajo y mucha organización! De hecho, los chicos detrás de esto son los siguientes:
Todos estos usuarios lograron en una semana organizar este fantástico torneo.
Nuestro objetivo es solo 1, ver a los mejores jugadores de splinterlands competir en un torneo.
De hecho, todos tenemos una pasión común, los videojuegos.
---
De hecho estos son los PATROCINADORES del torneo:
todos ellos tokens diferentes, ¡pero a quienes les importan los jugadores!
---
Para animar las cosas, la primera fecha de clasificación y el torneo final se transmitirán en twitch desde @drabs587, que a partir de la 1 PM (MST) estará en vivo en su canal de twitch que puede encontrar aquí
---
Sí, estoy seguro de que todos se han dado cuenta de la palabra calificación, ¿para qué sirve?
Pues ahora te lo explico, de hecho te lo digo:
CÓMO FUNCIONA EL TORNEO
El torneo extremo se dividirá en 2:
CALIFICACIONES # 1
¡En el primer torneo que les hemos puesto hoy, solo habrá las clasificatorias y algunos pequeños premios para traer a los mejores 26 JUGADORES para ir a jugar el torneo final!
Los premios del primer torneo serán los siguientes:
El valor total del clasificado es 18,75 HIVE / $ 31,12
¡Grandes premios que superan los $ 300 en valor!
¡¡¡El primer premio solo vale $ 125 !!!
---
¡Solo le pedimos que pague una pequeña tarifa de entrada de 10 DIC para garantizar que usted y cualquiera que vea el torneo se diviertan!
¡La diversión es la base de todo y si eres bueno ganarás el premio como el mejor jugador de splinterland de todas las comunidades!
---
# 2 FINAL
En el segundo torneo viene la diversión, de hecho todo se multiplica x 10
¡Aquí están los 26 mejores jugadores y tú puedes ser uno de ellos!
También puedes ver este torneo desde casa en Twitch gracias a @ drabs587
En este caso todo el torneo se jugará entre solo 26 jugadores, quienes recibirán una contraseña para acceder al próximo torneo.
¡Las recompensas en este caso son las siguientes!
7-9 100 PGM
4-6 20 OPG
3er 500 1UP / 400 PIZZA
2a 1000 1UP / 700 PIZZA
1a PIZZA 2000 1UP / 1000
---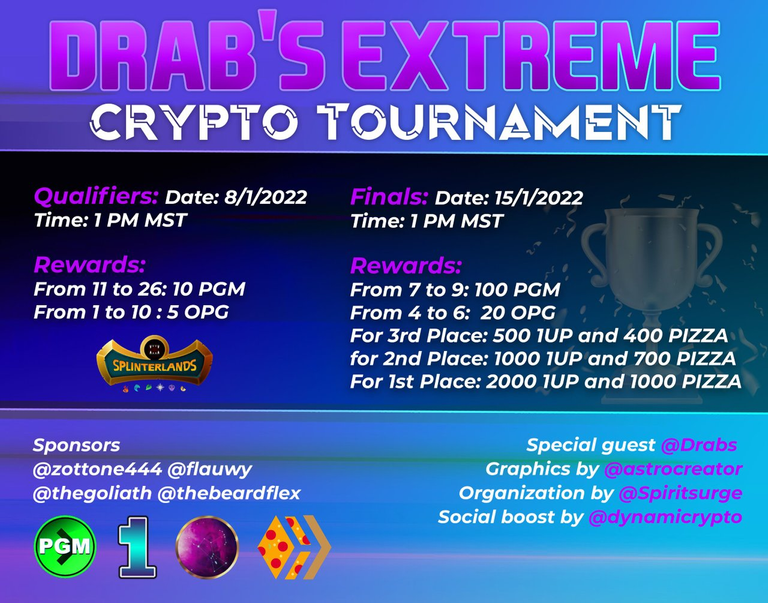 ITA
Ciao a tutti amici della community PLAY GAMER , oggi siamo qui , felicissimi , carichi , anche un pò emozionanti , per dirvi che da oggi sono aperte le iscrizioni al primo torneo di SPLINTERLANDS di PGM.
Infatti da esattamente oggi cliccando qui sarà possibile iscriversi al torneo!
Dietro questo torneo c'è tanto lavoro e tanta organizzazione! Infatti i ragazzi che ci sono dietro sono i seguenti:
Tutti questi utenti nel giro di una settimana sono riusciti ad organizzare questo fantastico torneo.
Il nostro obbiettivo è 1 solo , vedere i migliori giocatori di splinterlands sfidarsi in un torneo.
Infatti tutti quanti abbiamo una passione in comune , i video giochi.
---
Infatti questi sono gli SPONSOR del torneo:
tutti quanti token diversi ma che hanno a cuore i videogiocatori!
---
Per rendere il tutto ancora più piccante la prima data di qualificazione e il torneo finale sarà in streaming su twitch da @drabs587 che dalle 1 PM (MST) sarà in live sul suo canale twitch che trovate qui
---
Eh già , sono sicuro che lo avete notato tutti , la parola qualificazione , a cosa serve?
Beh ora te lo spiego , anzi ti dico proprio:
COME FUNZIONA IL TORNEO
IL torneo estremo si dividerà in 2:
#1 QUALIFICAZIONI
Nel primo torneo che vi abbiamo messo oggi ci saranno solo le qualificazioni e dei piccoli premi per portare i migliori 26 GIOCATORI ad andare a giocare il torneo finale!
I premi nel primo torneo saranno i seguenti:
Il valore totale del torneo di qualificazione è di 18,75 HIVE / $ 31,12
---
#2 FINALE
Nel secondo torneo arriva il divertimento , infatti il tutto viene moltiplicato x 10
Qui ci sono i 26 migliori giocatori e tu puoi essere uno di questi!
Anche a questo torneo potrai assistere da casa su Twitch sempre grazie a @drabs587
In questo caso tutto il torneo si giocherà tra soli 26 giocatori , che riceveranno una password per accedere al prossimo torneo.
I premi in questo caso sono i seguenti!
7-9 100 PGM
4-6 20 OPG
3rd 500 1UP / 400 PIZZA
2nd 1000 1UP / 700 PIZZA
1st 2000 1UP / 1000 PIZZA
Premi enormi che superano i 300$ di valore!
Solo il primo premio vale $125 !!!
---
Vi chiediamo solo di pagare un piccolo costo di ingresso di 10 DEC assicurando a voi e a chi guarderà il torneo divertimento!
Il divertimento è alla base di tutto e se siete bravi vincerete il premio come miglior giocatore di splinterland di tutte le community!
---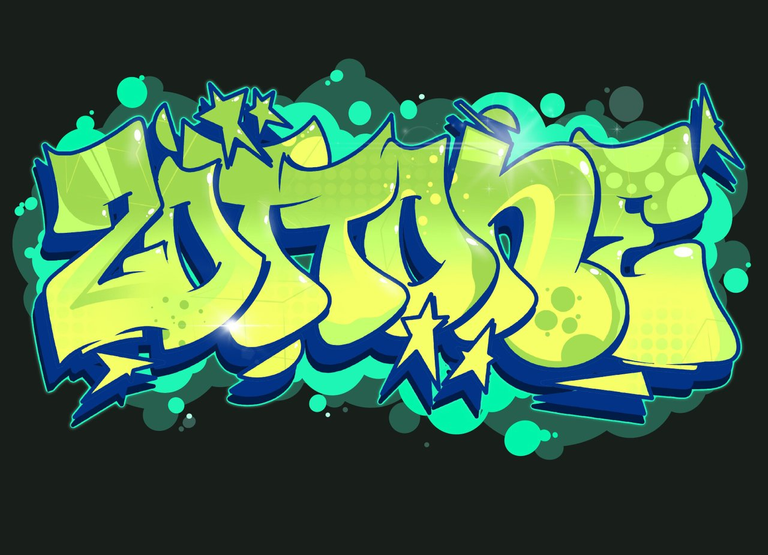 Follow me on
TWITTER ---> https://twitter.com/zottone444
TORUM ---> https://www.torum.com/u/zottone444
HYPPER ---> https://hyprr.com/profile/zottone444
NOISECASH ---> https://noise.cash/u/Zottone444
READCASH ---> https://read.cash/@Zottone444
BLURT ---> https://blurt.world/@zottone444
JOIN ON TELEGRAM ITALIAN GROUP ---> https://t.me/hiveitaly
FOLLOW HIVE ITALIA ON ---> Twitter -- Instagram -- Fecebook
photo by @astrocreator @tribaldex
---
If you want to buy/sell Dcity cards with the PGM token from the NFTM.art shop click here
---
My private socials
Instagram---> ale_zotta_
Twitch ---> zottone
---
Links that may be useful to you for the PGM token
Buy it here
If you don't know how to buy the PGM token click here
If you want to know what projects we collaborate with, click here and here
If you want to become a sponsor of the project click here
joins the PGM discord server
FOLLOWE PGM ON TWITTER
Buy games by paying with hive-HDB-Pizza Token here @thebeardflex
To buy my microphone click here
To join my fortnite community click here
@bencwarmer
@krok75 @aiovo @imfarhad @libertycrypto27 @blumela @dynamicrypto @blue.rabbit @josseangel
@astrocreator @misterc @motivationsimo @brutalmonkey @tampilyne @tokutaro22 @mrhuman88 @rickmc10 @dwixer @mimi05 @atma.love @lebey1 @moeenali @flauwy @melinda010100 @lozio71 @hollowknightgod @cryptounicorn420 @choof @servelle @kwskicky @bokica80 @bear.oneup
@ministickupboy @stewie.wieno @mchero @mrhuman88 @jfang003 @lokywolf2295 @captaincryptic @visionaer3003 @dagobert007 @shiftrox @subidu @pablodare @weesleytv @mvl2304 @oscarpower55 @joetunex @cantfoldaces @ahmetay @phoenixwren @stefano.massari @harpreetjanda @mynatasha @carys @shiftrox @germangenius @happyfrog420-new @doriangel @robibasa @zonadigital21 @tommyl33 @lawrence27 @germangenius @nellyhope @tommyl33 @trippymane @diavolo55 @idea-make-rich @boboman @stader @blue.rabbit @vasupi @drunksamurai @solairitas @mcurry @flaxz