Ok so for those not in the know we have an initial list for the VYB airdrops!!!
https://peakd.com/@vyb.vyb/vyb-airdrop-info-preliminary-tabulation-and-calc-s-part-1-of-4-summary-for-1-336
Very exciting news as it was a complex calculation not easily done that determined what you will be given.
1,000,000 VYB will be airdropped to accountholders who [1] have earned POB by creating original content and [2] have chosen to hodl that POB rather than sell it or otherwise dispose of it. In particular, the 1,000,000 VYB will be airdropped proportional to:
the amount of POB each accountholder earned via original-content creation (posts and comments) (with a 90% penalty applied to self-voted posts and a 500% penalty applied to self-voted comments) and
the amount of the aforementioned earned-POB still owned and staked (and being at least 100 POB),
as of 11/12/2021,
but with no single accountholder exceeding 2.5%.
I was also very very surprised as I ended up in 53 place!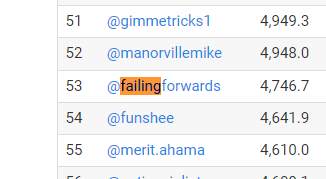 With my 476 liquid VYB I should shoot up to around number 47.
One reason for my surprise was my current rank in POB is way way lower, but 50th in staked so maybe staked is measure of how your earnt your POB?
Anyway get out there, look at your rank and start thinking about how you are going t build your stake up!