I never knew my love for this movie will be so big that I wouldn't mind watching the movie over and over again.
I mean, I remember my friend telling me I was going to enjoy the movie, I kept wondering why she said of all the movies she sent me, that was the movie I was going to enjoy until I finally had the time to watch the movie, I would not stop watching the movie over and over again even when I've got other movies yet to be watched in my phone.
Perhaps it could be because one of my best actors when it comes to action movies is in this movie and plays a great role there.
About The Movie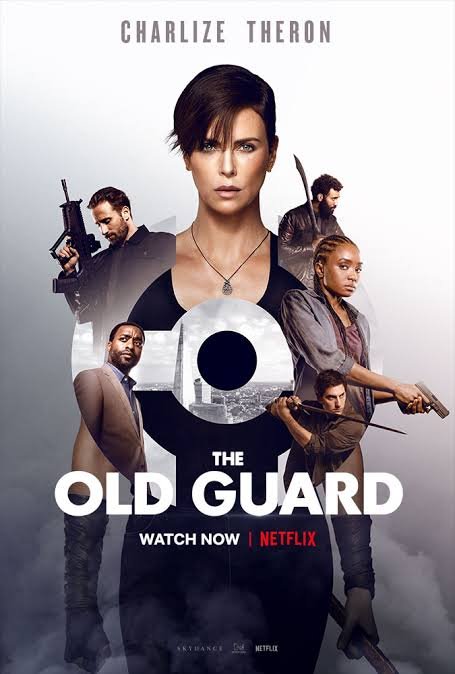 Image Source
The old guard was initially released on 10 July 2020, directed by Gina Prince-Bythewood, and written by Greg Rucka. The film stars Charlize Theron, KiKi Layne, Matthias Schoenaerts, Marwan Kenzari, Luca Marinelli, Harry Melling, Van Veronica Ngo, and Chiwetel Ejiofor.
Andromache by name Andy", Booker, Joe, and Nicky are all centuries-old warriors with unexplained regenerative healing abilities who use their rare abilities to work as mercenaries.
Their only and one sole mission is to help people most especially save people from bad men.
Their greatest mistake was to go against one of their rules that says They were never to work for the same employers twice.
They accept the job of a former CIA operative to rescue a group of kidnapped girls in South Sudan not knowing it was an ambush and a set up by the CIA to film their regeneration process after they were shot dead by the team CIA paid.
Nile Freeman a U.S. Marine was later found by Andy after a disturbing dream they got of her during the day her throat was sliced by a man she shot during a house search only to wake up with no scratch looking healthy. Andy goes in search of her and gets her before the military gets her and transfers her to an unknown place.
Andy takes her to meet the rest three who later tells her their mission and how they including her were immortals.
That same night they were ambushed by their enemy Merrick. Joe and Nicky were captured while Booker was shot to death and left behind.
Booker regenerates, while Andy kills all of Merrick's assassins and in the process got wounded, there she realizes she is not healing.
Booker and Andy decide to go retrieve the two while Nile refuses to join the group and decides to go unite with her family.
Booker betrays Andy and shoots her, only to find out that Andy is not healing but they were already captured by Merrick and his men. Nile although a little bit too late, on her way realizes that Booker sold out the group, goes back to save the group with the assistance of Copley who later regretted his actions.
She storms Merrick's hideout with the help of Copley and frees the rest of the group. Nile saves Andy and kills Merrick by grabbing him and jumping out of a window.
As punishment for his betrayal, the group sentence Booker's as punishment for his betrayal was 100 years of loneliness. He was forbidden from contacting them for 100 years and should wait where he was left until they came looking for him. Copley was given the job of covering up their tracks of existence from evil men like Merrick and finding missions for them.
Six months later in Paris, Booker comes back to his apartment drunken only to meet Quynh in his apartment.
My Thought
Well, when a movie has the likes of Andy involved, it is always an interesting movie to behold and she never fails in her acting skills. Their performances were superb and the actions were unique. I mean, the acting was great and the story and plot were amazing, fun to watch and understand maybe except for the part where Booker's intestine all came out during their last ambush and the part where Joe was shot on the head, even the last scene of Nile got be covering myself because the scene kinda scared me. Watching them heal back with bullets coming out of their bodies and bones cracking back to normal, got me very hard. It took me a while to watch those scenes without having to cover my face or fast forward the movie.
I think the movie should have a part 2, or perhaps it does have but I do not know about it, so we get to know what plans Quynh has to come to look for Booker.