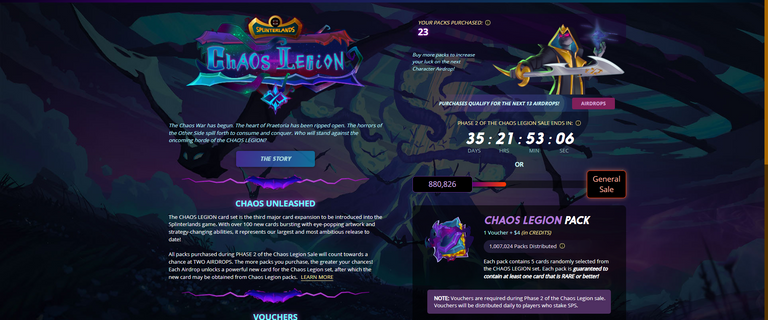 I've been very excited about the launch of Chaos legion for some time now and it is finally here. Today, I got the pleasure of opening 59 packs and got some interesting rewards.
I made a pack opening video that I'll publish later in the day. Overall, it was a straightforward process and the system didn't even lag, so that's a bonus.
Anyway, now that the packs have been opened, we're heading to the next phase of Chaos legion and that's the part where we get double vouchers from our staked SPS tokens. I have already received two voucher tokens today and will be receiving 58 more before the end of the airdrop.
Hodling for now
I was very excited about adding Chaos legion monsters to my deck, especially after holding on to those 59 packs for so long. However, instead of opening the new set of packs I'm buying, I decided to hold them for a while.
Unlike the previous voucher airdrop where each voucher could be sold to purchase two Chaos legion packs, the market has adjusted due to the booster airdrop. The adjustment has literally split the price of voucher into two as each token now trades below $8.
To make matters worst, the market price of each Chaos Legion pack now stands at $10.7. I don't think that's a fair valuation of the pack when you consider the hassle it requires to get the pack.
Each chaos legion pack should be trading for at least $12 right now. Of course, all that will change when we no longer need vouchers to buy packs but for now at least, this should be the price of packs.
It kind of sucked that I didn't get the Dr. Blight airdrop but I have to be honest with myself. If I had gotten it after minting only 21 packs with vouchers, that would have been an anomaly.
There are 13 more airdrops to go, so no harm done. This time though, I'll be minting more packs with vouchers.
It's a gamble that paid off
Opening packs kind of felt like a gamble but my excitement mattered more to me. I was receiving 17,700 SPS collection points from holding 59 packs.
After opening the packs, I received upwards of 22k DEC collection power and so that will translate to 22k SPS points later today. So, in essence, I'm still in a better position.
On top of the boost in sps points, I also intend to sell some monsters to raise DEC that will be stored in holding till further notice. The bear market has hit the price of DEC pretty bad, so if I manage to make some sales, I'd be pulling in more DEC than when the token was trading around its ATH.
Market thoughts
I'll also be putting the rest of the monsters up for rent. The revenue from rentals is passive and stress-free.
Before putting them for rent, I'll test them out in a couple of battles though. I'll also keep a few of them back for guild battles that I occasionally participate in.
I'm particularly thrilled by the Legendary gold foil Chaos dragon that I got from the draw. This is a Dragon monster that is going to offer high-level badassery to my arsenal.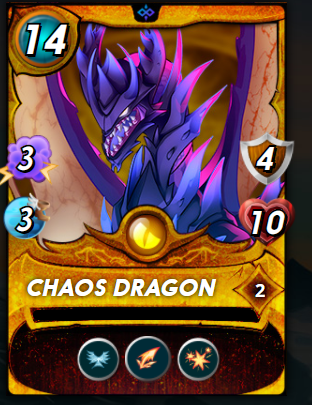 The least market price of this monster is $999 and I think that's a fair price for it. Right now, there are only two of them in the market, so it's very rare.
I'm still trying to decide whether I want to sell it or put it up for rent. I could be making 400 DEC per day from renting it out or I could put it up for sale, hope it gets bought at $999, and then hold the DEC to increase my SPS token.
The obvious worry is that this monster will be even more expensive in the long run. There's also the fact that owning a legendary gold foil puts me in an exclusive corner and there's no assurance I'll ever get another one again.
The fact that I've not been battling also means that I don't even receive reward monsters anymore. I miss the action and also miss earning monsters from opening chests. Buying them from the market takes out the mystery and thrill of the experience.
Contact & Support

Posted Using LeoFinance Beta