I know a lot of us think that crypto needs to be accepted in every country. And banks and the govt should shut down. Meanwhile many among us lose money in DEX and other decentralized instruments. Hear me out, I am not being negative to crypto, just being realistic than a dreamer.
More news you read these days the more you realize that countries with crypto as legal tender are not doing any good. In fact their average public is struggling. People who don't even know how to scan QR code are being handed over bitcoin as the currency.
Meanwhile the more crypto gets the legal tender acceptance, it seems like crypto is losing it's value. Think of it like seeing the hero after adventures end. The social Effect where the coin losing it's value and becoming more normalized.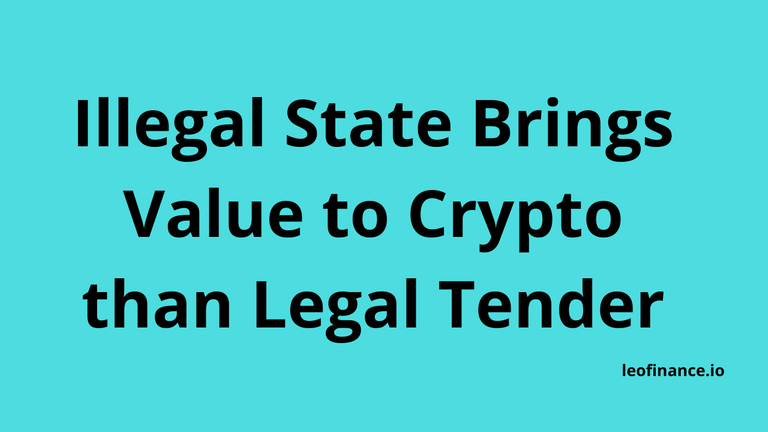 What could happen if Crypto becomes normalized?
---
What are some of the things that may happen if the crypto becomes normalized or say becomes legal tender in small nations. So let's discuss the same.
1. Anonymous Coins losing their Value
---
Imagine if CBDC becomes norm, the anonymous coins would be losing the value. People who are rebel would no longer think of crypto as a means to derive value once people move ships to the crypto offered by govt. People will be either forced to use Ethereum alternative approved by govt or simply similar projects which are govt controlled or multi-nation controlled blockchains.
2. Illegal finding Way inside Legal
---
A lot of people among us know that currently crypto is being used to turn the illegal funds into legal. If people find the way into the crypto then they can do the same inside the legal crypto instead of doing a lot of churning inside decentralized.
3. Regulation in Blockchain
---
Like most of the bank and finance projects, you would find that blockchain based programming would get regulated and also follow certification path for getting those legal jobs. Like you need to get certified and follow regulated practice for certain jobs and innovation too would be done through that sphere.
Illegal Has more Power than Legal
---
When bitcoin crypto started taking off in terms of the concept and the price rise, it was sold as a means for getting funds off the eyes of government. People thought the world without government would be possible.
In reality, you escape the local government only to create singular government when you try to push for decentralization. Which is kind of scary if you can imagine the world in the hands of China, Taliban, Russia like united front. I can't even imagine that world.
So the current rich people who managed to become one using the crypto trading or holding is because the crypto is illegal and it has made them more profit. Once it becomes normalized a lot of coins would lose value and so does it would fall below the legal tenders.
What do you think?
---
Do you think crypto would lose value once the CBDC comes in? Do you think the current value of crypto is higher because it is mostly used for the illegal purpose in the market? What's your opinion?
Posted Using LeoFinance Beta