The Hive blockchain has continued to grow in its utility. From just being a social media, we now have Decentralized Finance (DeFi), microblogging, NFT marketplaces, video hosting and sharing and play to Earn NFT games, among others. There is a growing number of Play to earn games hosted on Hive and each team prides on adding more value and deepening their game play deliveries to players while also paving more options for earnings and wealth creation. Simply put, players earn crypto while cruising in fun.
SoulKeep: Another Addition to Play to Earn Gaming League
SoulKeep is one of those Play to earn game deliveries from the Splinterlands developers. SoulKeep is a Tower defense battle game. Being a live play game other than a card iterations game on the blockchain, SoulKeep would be a drastic shift from the auto-play mode of Splinterlands and this unfold a new episode of earnable fun in the Splinterlands ecosystem and the entire blockchain gaming industry.
Splinterlands Tower Defense will be an incredibly deep and challenging game. Make strategic choices, such as the placement, upgrading, and arrangement of your towers, spells, and heroes during the preparation phase. Commit your defensive strategy to the battle. Watch the battle play out at various speeds or skip to the results. source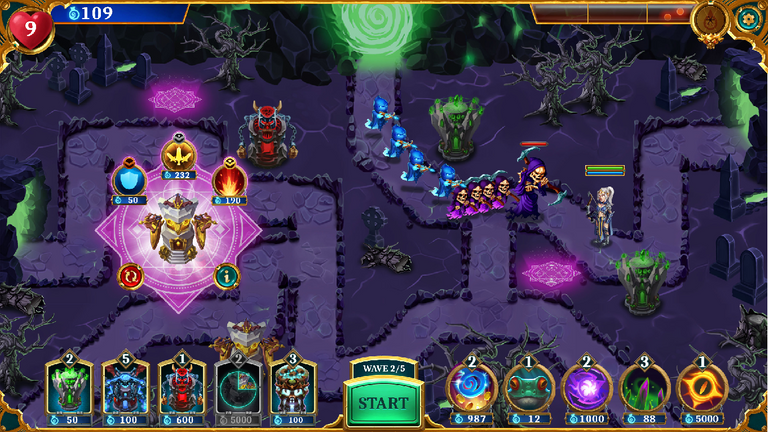 A screenshot of the gameplay's arena as shown above explains the game's design to enable players to collect mighty towers, fantastic spells, and powerful heroes to defend their world. A player is expected to strategically place and move towers anywhere on the battlefield, with formidable abilities to counter the Nightmare Queen's hordes. Towers are positioned to either slow enemies, deal magic damage or poison, or target flying fiends, and more. Towers can be upgraded along various tech-trees to customize defense. Major Towers in the game include Quake maker, gloom owl, fountain of terror, chaos coils and slime lord.
The pre-beta release game play video in the recent of the game was very interesting and I'm hopeful it would get more game lovers to Splinterlands and the Hive blockchain in general. See the video below.
---
---
Not just fun, Tokens and NFTs are Involved!
Soulkeep can be described as another module to monetize fun and leisure. Beyond the fun in the game play, SoulKeep players have the benefit of earning cryptos while playing or carrying out other activities within the game. The game allows for the staking of some Splinterlands cards into a tower for bonuses . This adds utility for Splinterlands NFT cards. Specifically:
Staking Splinterlands cards gives towers bonuses such as improved stats
Staked SPS allows a player to earn more rewards in SoulKeep.
Purchasing SoulKeep packs with $DEC and $VOUCHER is an added sink to the tokens.
SoulKeep 1.0 in View
SoulKeep has undergone several layers of development in the recent past. The game's development team has shared a couple of updates in that regard. The game has been running in a closed beta version for players with 500 Nightmare Packs to have a first taste of some of the latest nightmare levels as well as acquaint themselves ahead of the open launch. In a latest update, the team announced new battle rules for SoulKeep as well as the open release of SoulKeep 1.0.
We've been too busy SHIPPING FEATURES. The final launch and testing phases of the game Release 1.0 are truly upon us.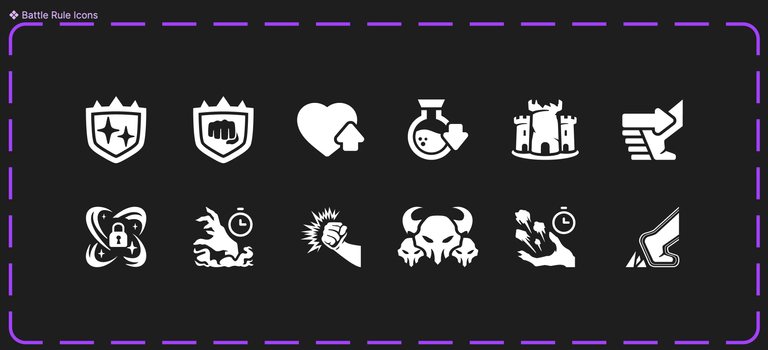 The update explained the demands of the levels of of the game. SoulKeep is designed to have "Gateway Levels" and "Free For All" mode. At the Gateway levels, the game will recommend Towers and Spells to use to the player who plays the level and figures out the right mix of tactics to win – tower placement, tower upgrading, spell usage, and hero deployment. But once that level is finished, the main way to earn rewards and unlock new Leagues will be to gather Fiend Souls in "Free For All" mode.
This "Free For All" mode will throw all sorts of challenges at the player such as:
Random maps and sets of fiends.
Limited slots for Towers and Spells.
Many "Battle Rules" that make each wave harder and harder and which you'll need to figure out how to work around.
Some of the battle rules at launch are that (1) A player's built-up tower may randomly fall into a hellgate, (2) A Spell may freeze, and (3) Fiends may speed up, gain stronger abilities, grow stronger armor, or buff up their health. players are expected to acquaint themselves with these rules to advance in the game.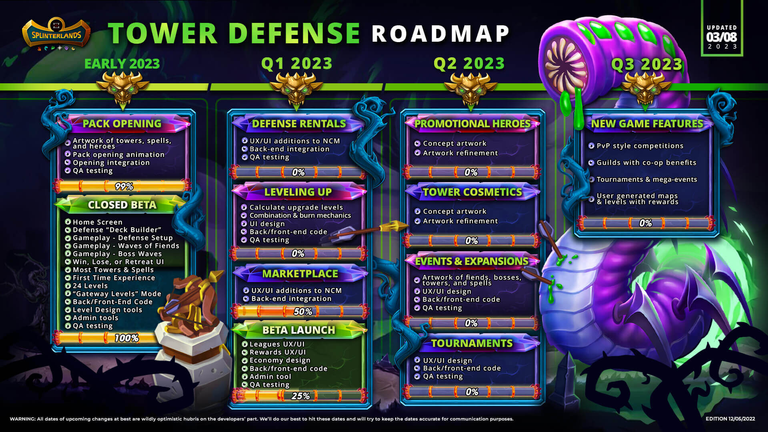 We are hoping that milestones in the game development roadmap would be hit accordingly. There would be lots of things to celebrate for in the Splinterlands ecosystem by the end of the year 2023 as we all await the grand emergence of the next crypto bull season.
Are you Preparing for the Next Airdrop?
Splinterlands is synonymous with airdrops. Almost all of its products comes with freebies for for its loyal patrons. Soul Keep is not left out as there are airdrop events coming. A total of 4 special Airdrop Tower Defense resources will be unlocked throughout the SoulKeep pack sales event. All airdrops would be accessed by buying the game packs.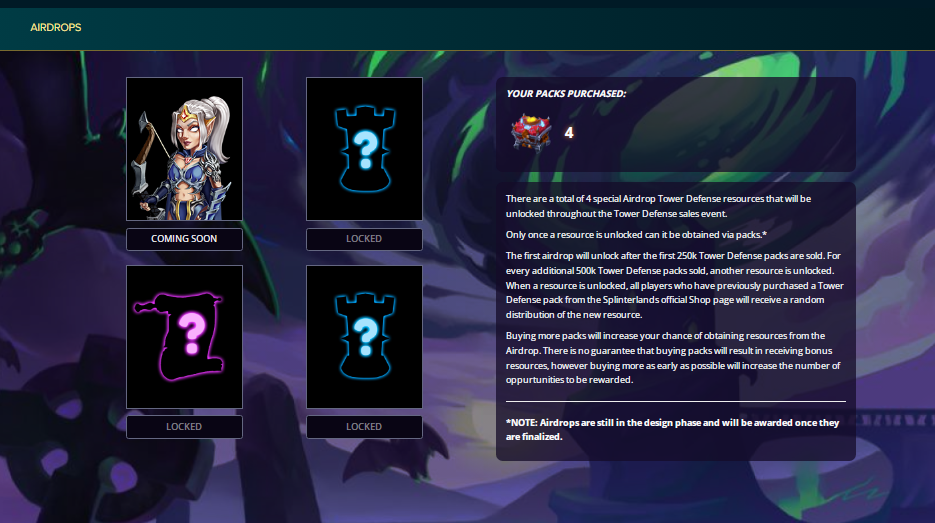 The first airdrop snapshot was taken when 250,000 packs of the game were sold. At 379k packs record, players are about halfway to the next airdrop snapshot that would happen when a total of 750k Soulkeep packs are sold. Are you buying enough packs to qualify for the next SoulKeep airdrop?

very exciting time are ahead and I hope everything goes out as planned. Let's watch the unfolding of SoulKeep 1.0.
---
You want to learn more about Splinterlands, SplinterGlossary is a hot reference center for you.
---

Splinterlands game is termed the "next generation of collectible card games" in which allows players to collect, trade, and battle with provably scarce digital collectibles with real-world value. Battles on Splinterlands Unlike most trading card games, are fast and furious, and are usually completed within few minutes. The Splinterlands gameplay is simple and easy to learn viz: reviewing combat rules, making and submitting of the team and watching the battle unfold.

If you found the article interesting or helpful, please hit the upvote button, share for visibility to other hive friends to see. More importantly, drop a comment beneath. Thank you!
Let's Connect
Hive: https://leofinance.io/profile/uyobong
Twitter: https://twitter.com/Uyobong3
Discord: uyobong#5966
---
Posted Using LeoFinance Beta
Posted Using LeoFinance Alpha