Quite by accident Today, I stumbled across an album of songs by the "late & great" singer Amy Winehouse. I'm sure that most of you have heard her original songs on the Radio, or purchased the Albums. However, these versions of her songs have been re-mixed by REGGAESTA with quite amazing results. I really enjoyed listening to these tracks, and I hope you do also...
So if you miss Amy's Music, then this is your chance he hear some of her many songs in a Reggae style. Big up to REGGAESTA for some amazing remixing! We all miss you Amy ~ Rest in Peace 🙏
Happy Irie Monday everyone... 😎
and as always, enjoy the relaxing Reggae Riddim.... 🎶🎧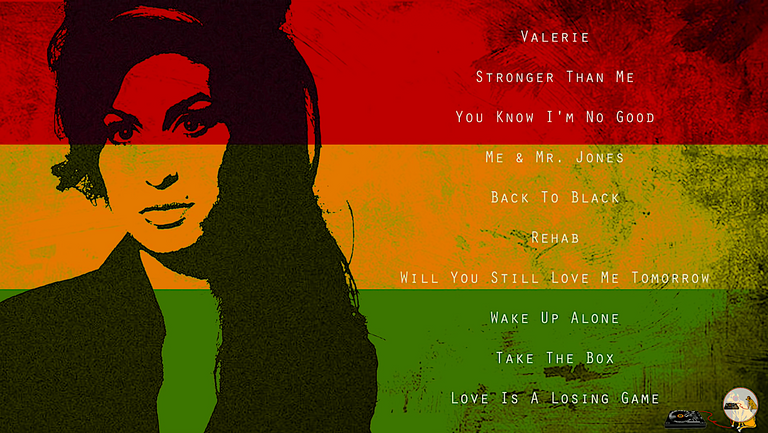 Uploaded to ©YouTube by ©REGGAESTA (with over 59,000 Subscribers)
Album: Reggaesta Meets Amy Winehouse (2020)
performed, mixed & mastered by Reggaesta
Reggaesta Dubs Amy Winehouse (2021).
Song Playlist:
0:00 Valerie
3:49 Stronger Than Me
7:12 You Know I'm No Good
10:21 Me & Mr. Jones
13:02 Back To Black
16:00 Rehab
19:29 Will You Still Love Me Tomorrow
22:39 Wake Up Alone
25:45 Take The Box
28:45 Love Is A Losing Game
Licensed to ©YouTube by:
Zimbalam (on behalf of Reggaesta Productions)
The above Music Video (& "Screen Shot" image) were both Sourced from ©YouTube [here]
Many thanks for visiting me,
and please enjoy chilling in the friendly #ReggaeJAHM Community ... 😎