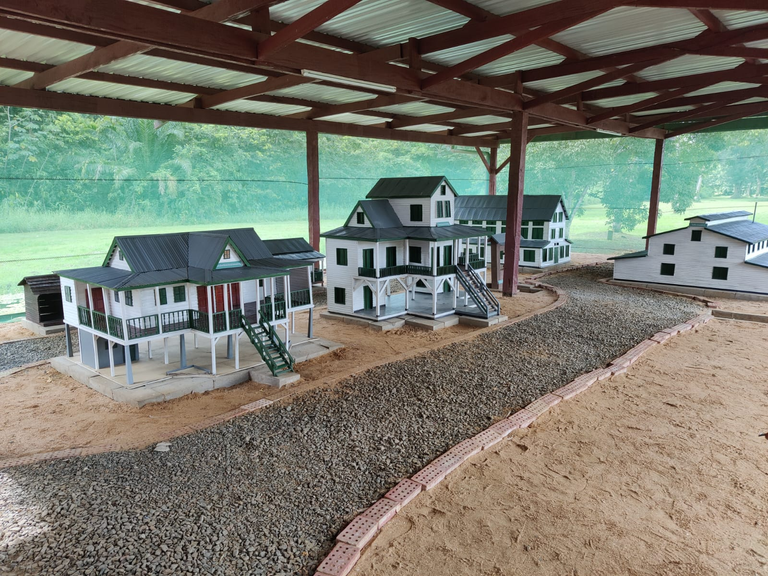 They say those who don't learn from history are doomed to repeat it. We can apply this saying to different things in life. Each experience is a learning opportunity, whether it was good or bad, but especially the bad. This is how we achieve growth and eventually success. What doesn't kill you actually makes you stronger in that regard, in many ways.
These are some of the thoughts that arise when I look at the replicas in the picture. They are replicas of typical old plantation housing in Suriname. These are of course the living quarters of the higher ups and not the slaves who usually resided in barracks. The slaves that were in higher standing did get their own small house of the same architecture in some cases.
I look at the picture and find it somewhat strange that those times were not very long ago if you think about it. A little more than 250 years ago, or 3 to 4 generations, whichever way you want to put it. From this perspective it is then not really a surprise that ethnical conflicts are still a thing in some parts of society. Slowly but surely this will become less over time, as with time, we learn from history and improve.

I think Bob Marley paints an interesting picture that overlaps with this message in Buffalo Soldier. As they were stolen from Africa and brought to America, history was being written.
Another well known lyric speaks to the situation back then: Fighting on arrival, fighting for survival. As many possibly still are nowadays, but in a different way.

#APART is an initiative by the IRIE down-to-earth people at the ReggaeJAHM Community where you share a picture alongside a Reggae tune the picture reminds you of.
Check out this post for more info on #APART and join the movement. 🙃
[ Uniquely clever sign out message goes here ]